Indian Navy's Annual Refit Conference 23 (ARC-23) and Annual Infrastructure & Indigenisation Conference 23 (AIIC-23) conducted on 23 and 24 February 2023 at Headquarters, Eastern Naval Command, Visakhapatnam. The conference was held under the Chairmanship of VAdm Sandeep Naithani, Chief of Materiel (COM). Refit plans, operational availability of ships/ submarines of the Indian Navy and the plans for augmentation of infrastructure to meet the growing requirements of the Indian Navy were discussed during the conference.
Chief of Materiel lauded the progress made on maintenance and sustenance aspects of Machinery, Hull, Weapons and Sensors of the Naval platforms. He urged the Technical fraternity to remain focused on challenges faced and use latest technologies like Artificial Intelligence, blockchain, quantum computation, 5G for IOT, robotics, etc, to ensure enhanced operational availability of ships and submarines through reduction in maintenance periods. He further highlighted the growing role of the Indian Navy and the extended deployment of ships away from the base port, which calls for greater reliance on repair authorities to deliver quality output.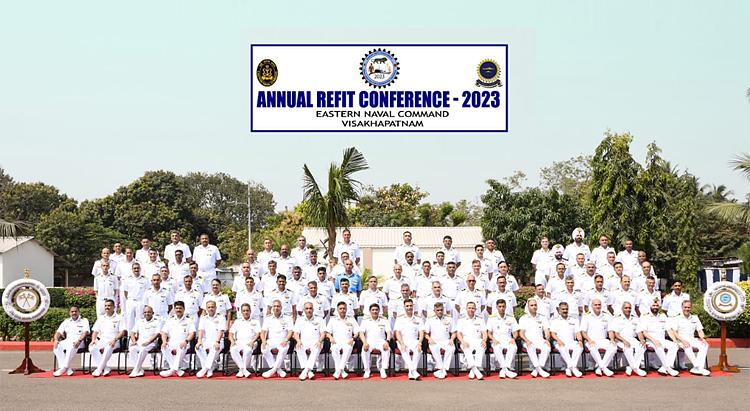 During the AIIC meeting held on 24 February 23, progress of various Technical and Marine infrastructure projects was reviewed by the Chief of Materiel. The COM expressed satisfaction with the pace of the ongoing technical infrastructure projects aimed at the augmentation of repair and refitting facilities in the Indian Navy. Further, various Marine infrastructure projects including the creation of additional berthing space for future platforms planned to be inducted over the next 15 years were reviewed during the meeting.
An exclusive session on indigenisation was also conducted during the conference, in line with the Government of India's initiative of Aatmanirbhar Bharat. The conference was attended by delegates from the Naval Headquarters, the three Naval Commands, the Tri-Services Andaman and Nicobar Command, Director General Naval Projects, Naval Dockyards, Repair Yards and Material Organisations of the Indian Navy.