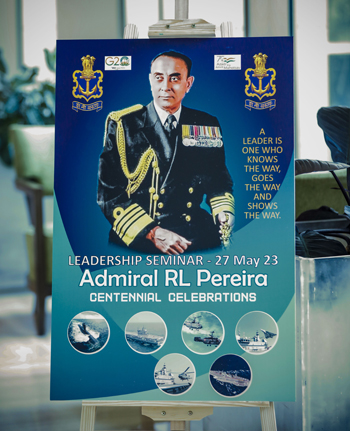 The centennial birthday celebrations of Late Admiral Ronald Lynsdale Pereira (Retd) were held at Bengaluru from May 25-27, 2023. A large number of Armed Forces personnel and distinguished veterans, including former Chiefs of the Naval Staff, gathered to honour the memory of the ninth Chief of the Naval Staff, a revered figure in India's modern naval history. As a part of the celebrations, a Leadership Seminar was organised on May 27, 2023 at Bengaluru, wherein Admiral R. Hari Kumar, Chief of the Naval Staff delivered the Keynote Address.
The seminar stimulated the audience with topics such as 'Eternal Leadership Lessons from Life and times of Ronnie Pereira', 'Adapting to Evolving Digital Landscape - Leadership Perspectives', and 'Galaxy of Naval Leaders and their Contribution to Growth and Development of Indian Navy'. The seminar also included a Panel Discussion on 'Ronnie Walked the Talk: The Essence of his Leadership by Self-example for Tomorrow's Leaders'.
Several eminent speakers recalled Admiral Pereira's remarkable career in the Indian Navy spanning four decades (1943 to1982), that left an indelible mark on the future of Indian Navy. Known for his integrity, courage and commitment to technological self-reliance, Admiral Pereira played a vital role in shaping the modern Indian Navy. As Deputy Commandant of the National Defence Academy and Chairman COSC, his vision, commitment and ethics influenced officers from all the three Services.
Earlier in the week, a wreath laying ceremony was undertaken by Rear Admiral K.M. Ramakrishnan, Flag Officer Commanding Karnataka Naval Area alongwith serving and veteran Armed Forces personnel at Admiral Pereira's resting place in Bengaluru.
The Navy Foundation Bengaluru Chapter, an organisation of retired naval officers, also participated in the centennial commemorative events. Admiral RL Pereira, who settled in Bengaluru after retirement, had worked tirelessly for the cause of ex-servicemen until his passing on 14 October 1993.
The large number of serving and retired Armed Forces personnel gathering for the event is a testament to Admiral Pereira's enduring legacy, which continues to inspire current and future generations. Both serving senior leadership and distinguished veterans called upon all to follow Admiral Pereira's example of leadership, integrity and moral courage.