India celebrates December 04 as Navy Day, every year, to acknowledge the role of the Indian Navy and commemorate its achievements in 'Operation Trident' during the 1971 Indo-Pak War.
This year, for the first time, Navy Day Celebrations are being conducted outside the National Capital.
This year, as India ushers in the 'Amrit Kaal' with the commencement of the celebrations of 75 years of her independence, the Indian Navy demonstrated India's combat prowess and capability through an 'Operational Demonstration' on Navy Day.
The President of India and the Supreme Commander of the Armed Forces, Droupadi Murmu witnessed the Operational Demonstration. Several dignitaries from the Central and State Governments also attended the event, which was hosted by Admiral R. Hari Kumar, Chief of the Naval Staff.
The Operational Demonstration showcased the capabilities of Indian Naval ships, submarines, aircraft, helicopters and Special Forces from the Eastern, Western and Southern Naval Command. The event concluded with Beating Retreat, a sunset ceremony and illumination by ships at anchorage.
During the event, a book on Naval history titled 'A Decade of Transformation - Signalling Power and Partnerships' was released and unveiled. In addition, commemorating the event a Navy Telefilm, movie on Navy Wellness and Welfare Association and a new naval song titled 'Call of the Blue Waters' written by Mr Prasoon Joshi and sung by Shankar Mahadevan were also released.
The Navy Day 2022 also marked a special day for the Indian Navy as the new President's Standard, a new Indian Navy Crest and the CNS Standard were unveiled on the occasion. The new President's Standard was displayed for the first time during the naval Guard of Honour inspected by the President on her arrival at Visakhapatnam.
The event was also witnessed by Biswabhusan Harichandan, Governor of Andhra Pradesh, G. Kishan Reddy, Union Minister of Tourism, Ajay Bhatt, Minister of State for Defence, and a host of dignitaries from the Armed Forces and the State Government, as well as citizens of Visakhapatnam City.
Navy Day celebrations are aimed at fostering greater outreach, renewing maritime consciousness amongst our citizens and highlights the Navy's contributions towards national security.
More than three lakh citizens of Visakhapatnam witnessed the Op Demo on the RK Beach.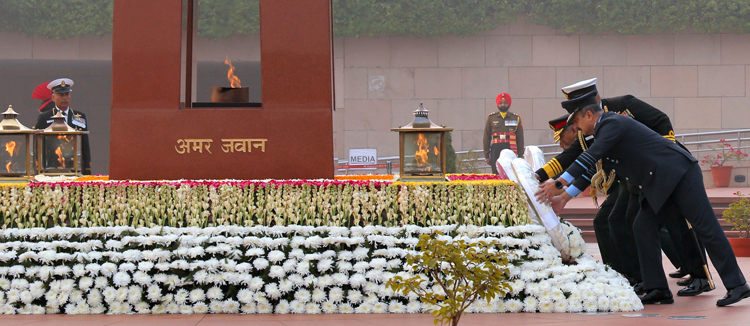 (Above) The Chief of Defence Staff, General Anil Chauhan, the Chief of the Air Staff Air Chief Marshal, V.R. Chaudhari, the Chief of the Naval Staff Admiral, R. Hari Kumar and the Vice Chief of the Army Staff, Lt Gen BS Raju paying homage to the fallen heroes at the National War Memorial, in New Delhi on the occasion of Navy Day on December 4, 2022.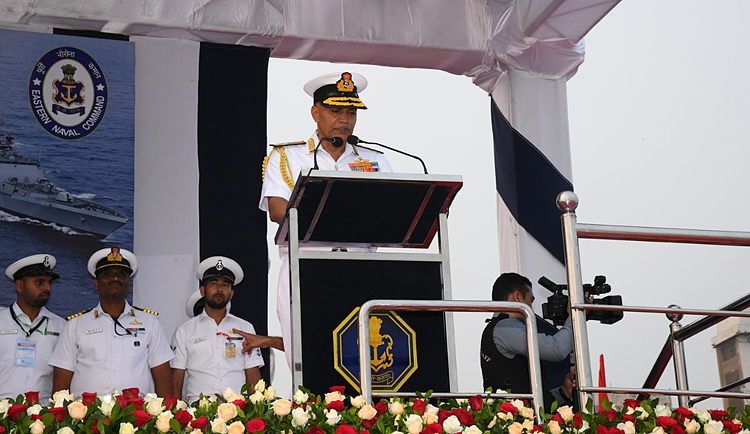 Chief of the Naval Staff Admiral, R. Hari Kumar addressing on the occasion of Navy Day.

The President, Droupadi Murmu on the occasion of Navy Day, in Visakhapatnam on December 4, 2022.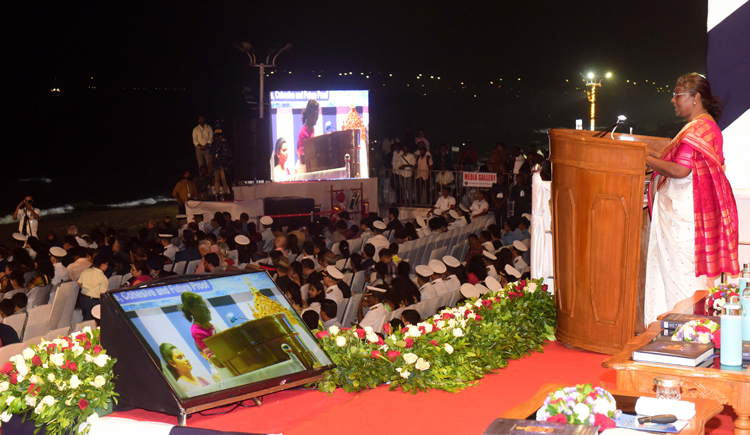 The President, Droupadi Murmu addressing on the occasion of Navy Day.
Glimpses of Navy Day celebrations by the Indian Navy