Grants totaling $250,000 presented to 13 nonprofit organizations in 11 countries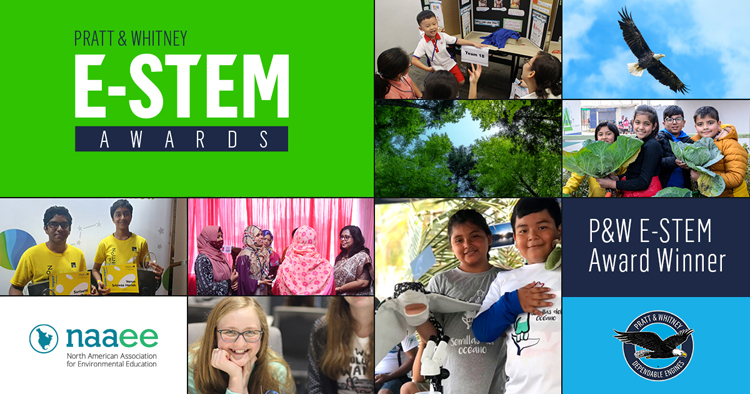 Pratt & Whitney and the North American Association for Environmental Education (NAAEE) today announced the winners of the first-ever Pratt & Whitney Global E-STEM Awards. Satheesh Kumar Kumarasingam, Pratt & Whitney's chief transformation and strategy officer, bestowed grants totaling $250,000 to 13 nonprofit organizations in 11 countries. Each group demonstrated a remarkable commitment to advancing environmental, science, technology, engineering, and math (E-STEM) education programs for underrepresented students ages 11–18.
"Pratt & Whitney remains steadfast in the development of sustainable propulsion technologies to transform the future of flight, reducing aviation's carbon footprint and impact on the environment," said Kumarasingam, the champion of the program. "We are honored to work with these inspiring global nonprofits that motivate and support the next generation of innovators and sustainability experts. This opportunity will allow each of these organizations to grow while building skills and capacity for young people to solve environmental problems through STEM."
A panel of judges from Pratt & Whitney and NAAEE selected the recipients from a pool of nearly 175 applicants spanning 40 countries who applied between May and July 2022. The winners were announced today in Tucson, Arizona, during NAAEE2022 Annual International Conference, with the theme Educating for Change.
From India, Bhumi, an NGO based in Chennai, Tamil Nadu and Haritadhara Research Development and Education Foundation (HRDEF) from Uttarakhand,won grants of $15000 and $5000 each. Bhumi coordinates school programs that, via a mix of both in-person and virtual learning, provide STEM activities and learning opportunities to low-income children in remote and rural parts of India.
HRDEF engages students with projects on environmental management, water, energy, waste, climate change, and transportation issues.
"Over the years, Pratt & Whitney has made focused investments on fostering STEM learning in India, and we continue to transform the future of flight to reduce the aviation industry's environmental footprint. Supporting E-STEM education for young people is a natural next step, and we are glad to note that Indian NGOs Bhumi and HRDEF have been selected out of the hundreds that applied," said Ashmita Sethi, president & country head, Pratt & Whitney, UTCIPL.
For more than five decades, the NAAEE has served as the professional association, champion, and backbone organization for the field of environmental education (EE), working with EE professionals across the United States, Canada, and Mexico, as well as globally, to advance environmental literacy and civic engagement to create a more just and sustainable future.
"NAAEE is thrilled to join Pratt & Whitney in recognizing these outstanding nonprofits from around the world that are working to address environmental challenges facing their communities," notes Judy Braus, Executive Director of NAAEE."These innovative groups are demonstrating how education, along with creativity, hard work, and a host of STEM skills, can help create positive change. We look forward to working with the winning organizations and seeing what these young problem-solvers of the future can accomplish."
Awards were provided in two categories, both of which fund programs that create solutions to an environmental challenge in one of the three priority areas: climate change, sustainable energy, or sustainable aviation.Six E-STEM Excellence Prizes of up to $50,000 were given to nonprofits and their partners who demonstrated excellence in established E-STEM education in three regions: Asia-Pacific (APAC); Europe, the Middle East, and Africa (EMEA); and the Americas. Seven regional Pratt & Whitney Global E-STEM Innovation Grants of up to $15,000 were presented to groups with promising proposals to launch new E-STEM programs. In addition, each group will have access to year-round professional development workshops and support, valued at $20,000.