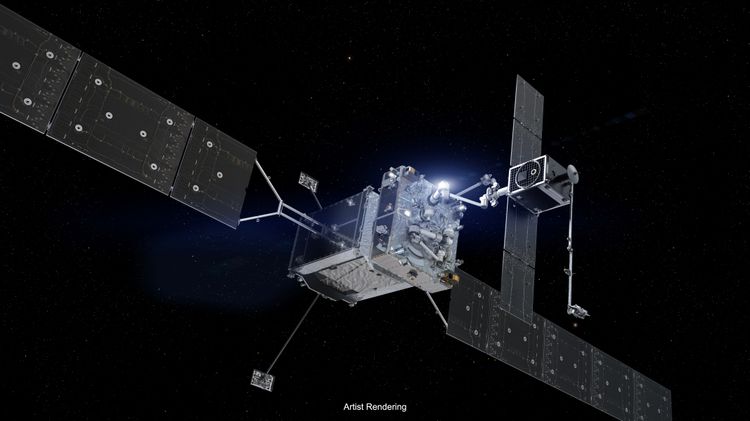 An artist's rendering of the Mission Robotic Vehicle with a Mission Extension Pod.
Northrop Grumman Corporation's SpaceLogistics has sold its third Mission Extension Pod (MEP), a propulsion "jet pack" that extends the life of legacy satellites, allowing them to operate longer and more profitably.
Under a purchase agreement with Intelsat, SpaceLogistics' Mission Robotic Vehicle (MRV), a servicing spacecraft equipped with robotic arms, will install the jet pack on an Intelsat communications satellite in geosynchronous Earth orbit (GEO) to extend its life by at least six years. This capability builds on a long-standing relationship between SpaceLogistics and Intelsat that includes the world's only commercial satellite-servicing missions in GEO.
"SpaceLogistics is building upon our proven in-space servicing capabilities to offer revenue continuity, enhanced resiliency and sustained maneuver for commercial and government satellite operators with our MEPs," said Rob Hauge, president, SpaceLogistics. "This sale completes the launch manifest for our first tranche of MEPs and underscores the demand for our services. SpaceLogistics will continue to deliver future MEPs to extend the life of client satellites while making space sustainable for all."
Both MRV and MEP have completed their critical design reviews and are proceeding through build, integration and testing ahead of a planned launch aboard a SpaceX Falcon 9 in early 2025. Once on orbit, the MRV will provide a persistent robotic servicing capability in GEO that paves the way for missions including satellite inspection, relocation and repair. By attaching specialty tools to the ends of its robotic arms, the MRV will be able to adapt to emerging mission needs.
"Northrop Grumman's SpaceLogistics continues to develop key technologies as demand grows for in-space servicing for future missions and architectures across commercial, civil and national security space," said Rob Fleming, vice-president and general manager, strategic space systems, Northrop Grumman. "Our space-servicing system helps satellite operators activate new markets, drive asset value and protect their franchises."
SpaceLogistics is the global leader in the development and deployment of on-orbit satellite servicing systems and the first and only company performing on-orbit servicing for geosynchronous satellites. The planned fleet of service vehicles will extend operational life, upgrade capabilities and enable future missions for a variety of customers.