Rear Admiral Sanjay Bhalla, FOCEF addressing during the Opening Ceremony of Exercise Malabar 2022, onboard JS Hyuga at Yokosuka, Japan.
The Opening Ceremony of the multi-national maritime exercise Malabar 2022 hosted by Vice Admiral Yuasa Hideki, SDF Fleet Commander was held onboard JS Hyuga at Yokosuka, Japan on November 8, 2022. This edition of the exercise is scheduled from November 8-15, 2022. It marks the 30th anniversary of exercise MALABAR which began in 1992 as bilateral exercise between India-US and gained further eminence with joining of Japan and Australia. The ceremony was attended by the crew and planning staff of participating ships, aircraft and Special Forces from Australia, India, Japan and United States.
The Indian delegation comprising Commanding Officers and crew of INS Shivalik, INS Kamorta, P8I and Marine Commandos was led by Rear Admiral Sanjay Bhalla, Flag Officer Commanding Eastern Fleet. Vice Admiral Karl Thomas, Commander, US Navy Seventh Fleet and Real Admiral Jonathan Earley, Fleet Commander Royal Australian Navy also participated in the ceremony alongwith personnel from their respective navies.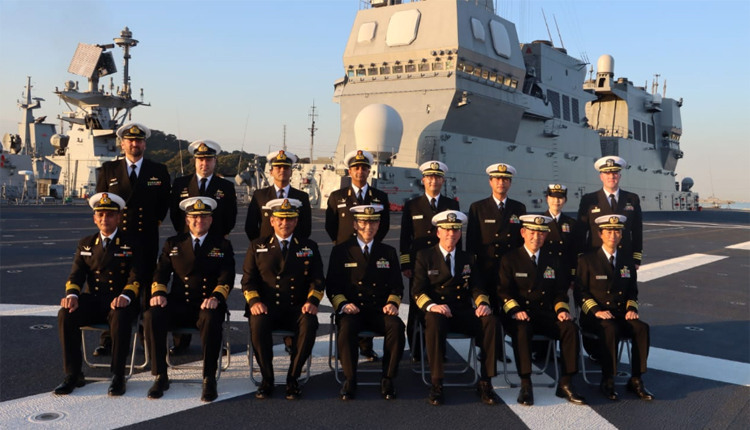 At the Opening Ceremony of the multi-national maritime Exercise Malabar 2022, onboard JS Hyuga at Yokosuka, Japan.
The Commanders of all the participating navies recognised the importance of exercise Malabar in enhancing mutual understanding and improving interoperability amongst the participating navies as they seek to address common concerns in the maritime domain.
The exercise will witness live weapon firings, complex surface, anti-air and anti-submarine warfare drills, and joint manoeuvres including an advanced tactical exercises. The high-tempo exercise will see large scale participation from partner navies, comprising an Aircraft Carrier (USS Ronald Reagan), eight destroyers/ frigates, one corvette and two tankers alongwith long range maritime patrol aircraft, advanced jet trainers, integral helicopters and submarines.
Indian Navy is being represented in the exercise by indigenously built ships Shivalik, Kamorta, Marine Commandos and a Maritime Patrol Aircraft P8I.