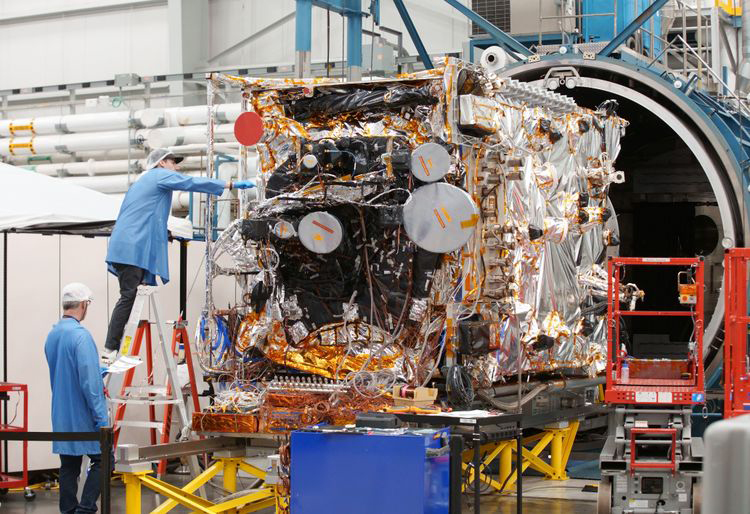 ASBM-1 satellite enters thermal vacuum environmental testing at Northrop Grumman's satellite manufacturing facility in Dulles, Virginia.
Northrop Grumman Corporation has delivered two major components of the Arctic Satellite Broadband Mission (ASBM) and has started the next phase of pre-launch preparations. This two-satellite constellation will deliver protected satellite communications to the Northern polar region – one of the most difficult locations on earth to deliver communications.
The most recent accomplishments include:
Successful delivery of the Control and Planning Segment (CAPS) ground system to the U.S. Space Force
On-time delivery of both Enhanced Polar System Recapitalization (EPS-R) payloads to the Space Force
Integration of the EPS-R payload and successful completion of thermal-vacuum environmental testing on the first space vehicle
ASBM is a combined effort between the U.S. Space Force, Space Norway and Northrop Grumman. ASBM uses the Northrop Grumman GEOStar-3 platform, which includes the main satellite structure and systems required to maintain operation, such as power, propulsion, communications, command and data handling, thermal control and guidance and navigational control. Northrop Grumman also provides the payload and ground system for this critical capability.
"Northrop Grumman's end-to-end space technology capabilities represent a powerful model for government and commercial partnerships in space, marked by greater agility and affordability," said Tom Wilson, corporate vice president and president, Northrop Grumman Space Systems. "Our work to deliver protected polar satellite communications will fill a critical need for our customers."
The CAPS ground system was delivered to the Space Force in March following successful completion of the site acceptance test, functional configuration audit/physical configuration audit and DD-250 sell-off. CAPS is currently transitioning to the operations phase which opens the door for using the ground system for early operations with the two on-orbit operational EPS payloads along with the capability to support the two EPS-R payloads after the ASBM launch.
The satellites also carry multiple hosted payloads, including an X-Band payload for the Norwegian Ministry of Defense, a Ka-Band payload for Inmarsat and the Norwegian Radiation Monitor payload commissioned by the European Commission.