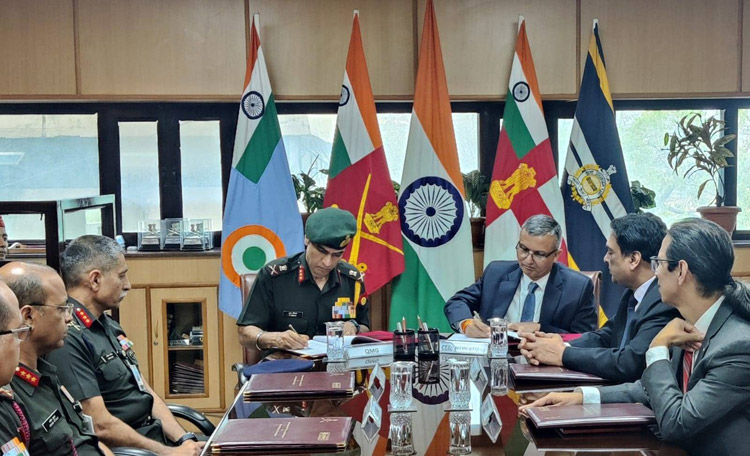 Indian Army & NTPC Renewable Energy Ltd NTPC REL signed an MoU to install Green Hydrogen based power plants in Army establishments.
In line with the 'National Green Hydrogen Mission', the Indian Army has put in motion the process for installation of a Green Hydrogen based Micro Grid Power Plant project in the forward areas along the Northern borders which are not connected by National / State Grid. An MoU was accordingly signed between Indian Army and National Thermal Power Corporation Renewable Energy Limited (NTPC REL) on March 21, 2023 at Sena Bhawan, New Delhi. On behalf of the COAS, the Quarter Master General (QMG) signed the MoU with Mohit Bhargava, CEO, NTPC REL.
Indian Army is providing requisite land on lease for 25 years with a commitment to purchase generated power through a Power Purchase Agreement (PPA). The proposed projects will be installed by NTPC on Build, Own and Operate (BOO) Models at a jointly identified location in Eastern Ladakh. The project entails setting up a Solar Power Plant for hydrolysis of water to produce Hydrogen, which, during non-solar hours will provide power through fuel cells. This will set the stage for similar projects in the future and contribute towards reducing dependence on fossil fuel-based generator sets with concomitant abatement of green-house gas emissions.

The power plants will provide Green Energy to Indian Army troops & will assist in de-carbonisation in High Himalayas.
With this MoU, the Indian Army has become the first government organisation to enter into an agreement with National Thermal Power Corporation Renewable Energy Limited with firm plans to roll out similar projects in the future.