Top commander confirms that the Brahmos cruise missile now has an extended range of 450 km
Air Marshal Raghunath Nambiar, Air Officer Commanding-in-Chief Western Air Command, announcing on SP's Digital that the IAF shall wield the "very spectacular, very accurate" Brahmos "in just a matter of weeks"
The air-launched Brahmos cruise missile will be an operational weapon of the Indian Air Force (IAF) "in a matter of weeks". This will be India's most lethal conventional air-to-ground weapon.
"It is undergoing a set of trials. But it is working and it has shown itself to be very spectacular, very accurate and we're in the process of operationalising it. It is just a matter of maybe weeks or months before we have a capability," Air Marshal Raghunath Nambiar, Air Officer Commanding-in-Chief of India's Western Air Command told SP's in an exclusive interview.
He made this disclosure while talking about the significant upgrades in IAF capability since the Kargil War of 1999.
"Our weapon systems have improved tremendously. The Laser-Guided Bombs (during the Kargil War) could go 7,8, 10 km from the aircraft. Today, we have stand-off weapons like the Spice 2000 and the Crystal Maze which go (across) a much longer range. The Brahmos for example can go up to 450 km. I mean that is the IAF capability today. We've made a huge jump in capability terms," he told SP's.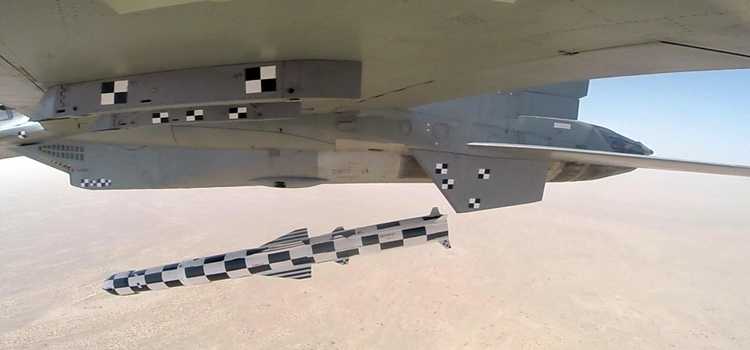 BRAHMOS MUSCLE: Induction of a 450-km range terrain-hugging air-launched supersonic cruise missile will add punch and depth to India's stand-off precision attack capability
This acknowledgement confirms SP's report of July 19 on the range of the Brahmos missile being increased from 290 km to 450 km on account of India's membership of the Missile Technology Control Regime (MTCR), which bars export of missiles or missile technology to a non-member where the weapon range is over 300 km. India was accepted as a full member of the MTCR in 2016, and the earlier restrictions imposed by the global export-control regime no longer apply to it (https://www.spsmai.com/news/?id=850&q=MTCR-relaxations-Range-of-India-s-Brahmos-cruise-missiles-increased-to-450-km) .
Brahmos has been co-developed with Russia and is produced in India.
SP's also reported exclusively that 42 Sukhoi-30MKI fighters of the IAF will be armed with the air-launched Brahmos. The availability of this weapon increases India military options for launching surprise precision cross-border attacks from a stand-off range. It is a formidable weapon because it is difficult to detect and intercept in terrain-hugging flight mode at speeds up to 2.8 Mach.