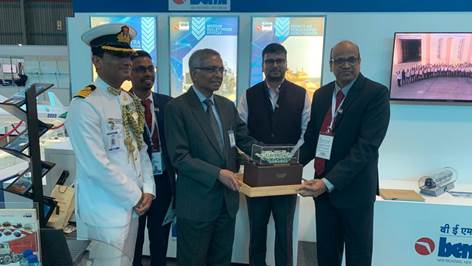 M.G.G. Raju, General Manager, Defence, presenting the Arjun ARRRV scale model to Jaideep Sarkar, the High Commissioner of India at South Africa
BEML Limited, Defence Pubic Sector Undertaking under Government of India is marking its presence in The Africa Aerospace & Defence (AAD)-2022 exhibition held from September 21-25, 2022 at Tshwane, South Africa.
Jaideep Sarkar, High Commissioner of India in South Africa, formally inaugurated the Pavilion.
The Government of India has identified the Defence & Aerospace sector as a focus area for the 'Aatmanirbhar Bharat' initiative with a formidable push on the indigenous manufacturing facilities and also laying a lot of emphasis on defence collaboration under "make in India, make for the world". By participating in this exhibition, BEML is looking forward to engage with International players and enhance its Defence business in the African continent.
The Africa Aerospace and Defence (AAD) is Africa's only Aerospace and Defence expo that combines both a Trade Exhibition and an AirShow. AAD provides a conducive environment amenable to business-to-business linkages as well as strategic platforms to engage in dialogue and discourse on international Defence, Aerospace and other related best practices.