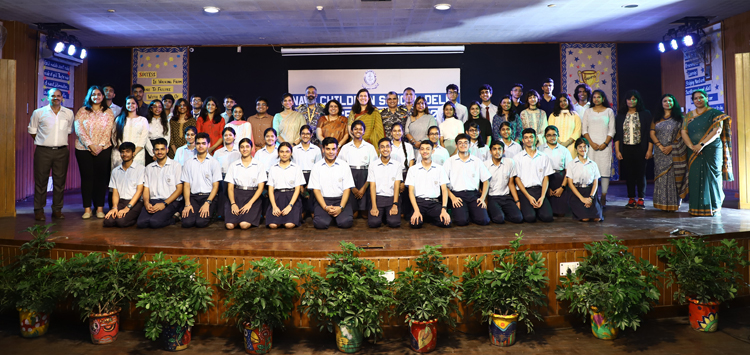 Academic achievers of classes X and XII were felicitated at the Award Ceremony held at Navy Children School, Delhi on July 21, 2023. Zarine Singh, Vice President, Navy Welfare and Wellness Association (NWWA) graced the occasion as Chief Guest. The ceremony was also attended by Oshima Mathur, Principal, Commodore Satish Shenai, Commanding Officer, INS India, Commodore Edwin Jothi Rajan, Cmde (Naval Education)-II, PTA committee members, students and parents.
During the Award Ceremony, academic achievers of classes X and XII were presented with awards instituted by PTA, Navy Education Society (NES), INS India and NWWA. The PTA awards were presented by Cdr Sajid Khan, Vice Chairperson and Cdr Sahaya John, Honorary Joint Secretary. NES awards were handed over by Commodore (Naval Education)-II, and INS India awards were given away by the Commanding Officer. The Chief Guest presented NWWA awards to the achievers.
Navy Children School Delhi has always been committed to fostering an environment that promotes character-building and enriches excellence, aimed at holistic development of children. The Award Ceremony served as an important occasion to acknowledge the students' relentless pursuit of knowledge, setting a shining example for their peers.
Speaking on the occasion, the Chief Guest congratulated the award winners and urged them to continue the efforts to equip themselves with necessary skills to face life's challenges. She also called upon the students to express gratitude to teachers, parents and mentors who guided them in their path to success. The Principal, in her address, expressed heartfelt appreciation to the students and thanked the parents for their steadfast support, recognizing their pivotal role in the achievement of children.
The Chief Guest and other dignitaries interacted with the award winning students after the ceremony.