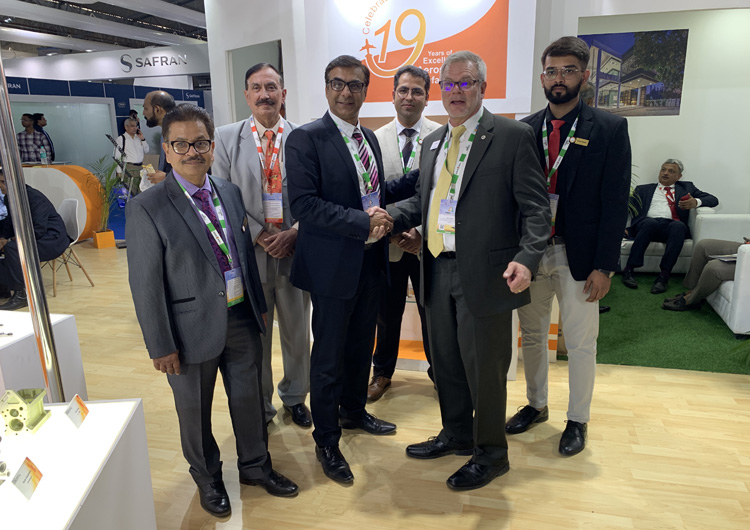 Gautam Maini, Managing Director, MPP along with Eric Hansen, Business Development Manager, L3Harris at the signing a teaming agreement for manufacture of Ejector Release Units (ERUs) at Aero India 2023.
United States-based L3Harris Technologies and Maini Precision Products Limited (MPP), Bengaluru, today announced, at Aero India 2023, signing a teaming agreement for manufacture of Ejector Release Units (ERUs).
Under the terms of the teaming agreement, L3Harris and MPP will localise the ERUs in a phased manner, as well as set up an MRO facility in India. The definitive objective of the partnership is to jointly offer Life of Type support, with maximum localisation. A Make in India project, the ERUs will be suitable for various prestigious Indian aircraft programmes including the Light Combat Aircraft Mark 2 and the Advanced Medium Combat Aircraft.
Approved by the U.S. government for safety features and crew interface even when pressurised, the ERUs feature advanced technology compared with other contemporary ERUs. This Partnership is expected to give a boost to the Atmanirbhar Bharat programme of the Government of India mandated for Indian combat aircraft programmes.
Speaking at the signing ceremony at the MPP booth at Aero India 2023, Gautam Maini, Managing Director, MPP, said, "The signing of the teaming agreement between L3Harris and the Aerospace Division of MPP stands testament to the 19 years of our focus on ensuring quality and working to provide high-tech solutions for our partners and customers in the Aerospace industry. Working with a global organisation like L3Harris to localise manufacturing, repair and overhaul high technology products will facilitate MPP's principle of 'Make in India & for the World' and provide Life of Type support to the Indian aircraft programmes."
Present at the signing ceremony were Gautam Maini, Managing Director, MPP, Amitabh Ghosal, Vice President, India Operations, L3Harris, and Eric Hansen, Business Development Manager, L3Harris, in the presence of Dr. Naresh Palta, Sr. Advisor (Aerospace & Aviation), MPP, Sharan Mehta, Chief Strategy & Marketing Officer, MPP, S.K. Singh, Project Leader, MPP and Rohan Reddy, Key Account Manager, MPP.
The ERUs offered by L3Harris and MPP will be designed with integral bottles, offering several advantages over the external bottle concept, including being designed as fit-and-forget ERUs with a zero-maintenance requirement on the part of operators, resulting in significant savings in life cycle costs as well as substantial ease in day to day and combat operations.
Additionally, integral bottle management has no requirement of logistics, unlike an external bottle approach. Pylon integration is also simplified since access doors or brackets are not required in the pylon design, and pneumatic tubes do not need to be routed from ERUs to pylons. These design features enable faster and safer re-arming operations for loading crews and the ability to carry a wider array of weapons.