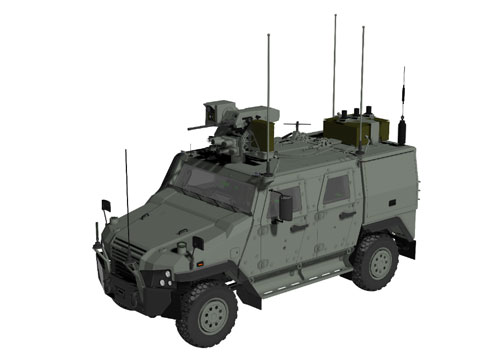 CLRVs
The Ministry of Defence of the Grand Duchy of Luxembourg has recently selected Thales, program prime contractor, FN Herstal and General Dynamics European Land Systems (GDELS), program subcontractors, to supply eighty Command Liaison and Reconnaissance Vehicles (CLRVs) to the Luxembourg Army.
These new generation armoured vehicles will integrate high-tech equipment, significantly improving communication, information management and collaborative combat capabilities, as well as crew safety.
The CLRVs will be equipped with deFNder® Medium Remote Weapon Stations, produced by FN Herstal in Belgium. These stations offer optimal safety for the operatorsand a modular architecture to meet a wide range of self-defence or collective missions.
The Luxembourg CLRVs will help improve European interoperability, which is a strategic pillar for future collaborative combat operations by European armed forces. The acquisition program was supported by the NATO Support and Procurement Agency (NSPA), which also ensures their interoperability with NATO countries.
Julien Compère, CEO of FN Herstal: "FN Herstal is extremely proud to contribute to equipping Luxembourg's Army with truly state-of-the-art armoured vehicles. The choice of the Government of the Grand Duchy of Luxembourg will contribute to strengthening European defence initiatives and NATO capabilities, including collaboration between their respective armies. FN Herstal would also like to thank Thales, the program's prime contractor, for its confidence and our longstanding, high-quality collaboration. Together with GDELS, we will provide the Grand Duchy of Luxembourg with the best in our field today."