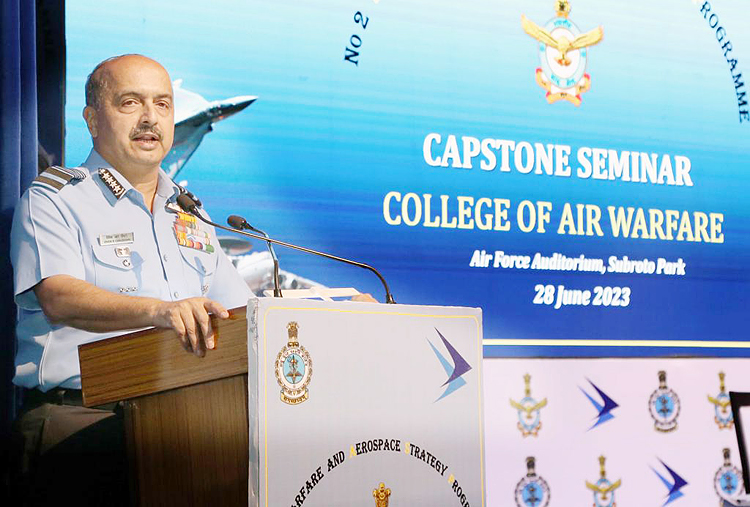 Chief of the Air Staff, Air Chief Marshal V.R. Chaudhari addressing at the Capstone Seminar on second "Warefare & Aerospace Strategy Program" (WASP) at the Air Force Auditorium, in New Delhi on June 28, 2023.
The Indian Air Force today conducted a Capstone Seminar at the Air Force Auditorium, New Delhi, marking the culmination of the No. 2 Warfare & Aerospace Strategy Program (WASP). The seminar was conducted under the aegis of the College of Air Warfare and Centre for Air Power Studies.
WASP is a strategic education programme of 15 weeks duration which was started in 2022 and is structured to provide the participants with a deep understanding of strategy. The broader aim is to nurture critical thinkers who can blend cross-domain knowledge to generate policy-driving ideas at the strategic level. For the No. 2 WASP, eight officers underwent intensive training in the fields of Strategy, Military History, Civil-Military relations, Higher Defence Organisation, Aerospace Power, Information Warfare, Technology and Hybrid Warfare.
Air Chief Marshal V.R. Chaudhari, Chief of the Air Staff (CAS), delivered the keynote address of the Seminar which was attended by senior officers from all three services, Defence Attaches, senior bureaucrats, aerospace power scholars, academia and established defence correspondents. He stated that the endeavour of programmes such as the WASP is to prepare future military leaders in the cerebral domain by promoting the habit of reading. The knowledge thus gained must lead them to the question of 'How to think', rather than 'What to think'. It is this self-learning that will equip tomorrow's leaders to think creatively to continuously evolve strategy as the strategic environment changes around them.
The CAS stated that human capital will always be supreme and should therefore be nurtured. Emerging technologies would however remain symbiotic with human intellect, thereby necessitating the need to absorb and adapt with it continuously. He added that he was glad to note the performance of the officers who had undergone the WASP last year. He said that he was looking forward to the current graduates and those following them, filling key posts in the Indian Air Force.
Finally, the CAS complimented the mentors who had guided the student officers through the programme and expressed a desire that they continue with the same zeal in the forthcoming editions of the WASP.
In the first session of the Seminar, the participants presented their papers on the topic of 'India and the Emerging New World Order: Future role of IAF towards India's Regional and Global Aspirations'. This was followed by the second session, which saw them discussing 'Advantages of Application of Airpower towards an integrated Indian Continental & Maritime Approach'.