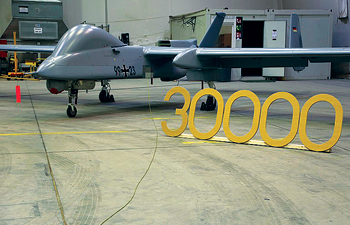 Israel Aerospace Industries (IAI) Heron surveillance unmanned aerial systems (UAS) have recently reached 30,000 operational flight hours in the Mazar-e-Sharif area, according to reports by the German Air Force, the Heron operator in Afghanistan.
Heron systems have been active in Afghanistan since 2010, under the IAI Heron leasing contract signed by the German Defence Procurement Agency (BAAInBw) and Airbus DS Airborne Solutions GmbH, a subsidiary of Airbus Defence and Space.
This important milestone demonstrates Heron's diverse capabilities in carrying out operational missions in challenging terrains. Heron is designated for long-term strategic and tactical tasks and can fly under severe weather conditions, carry a large number of payloads and transfer live information to forces in the field and decisionmakers. During a number of years of activity in Afghanistan, Heron has served a variety of other NATO allies, among them France, Canada and Australia.
Due to its considerable operational success over the years in Afghanistan, and the German Government's decision to extend its stay in Afghanistan, an additional leasing contract has been given to the German military for operating the Heron UAS in Afghanistan for one more year, until February 2018.
IAI's Executive Vice President and General Manager of the Military Aircraft Group, Shaul Shahar, said: "Our connection with the German Air Force is of course highly important, and we are proud to continue to provide an operational solution together with the excellent cooperation we have with Airbus." Due to its successful operations in Afghanistan, the German Air Force is presently operating the Heron in Mali as part of a UN policing mission.
IAI is Israel's largest aerospace and defence company and a globally recognised technology and innovation leader, specialising in developing and manufacturing advanced, state-of-the-art systems for air, space, sea, land, cyber and homeland security. IAI also designs and manufactures business jets and aerostructures, performs overhaul and maintenance on commercial aircraft and converts passenger aircraft to refuelling and cargo configurations.