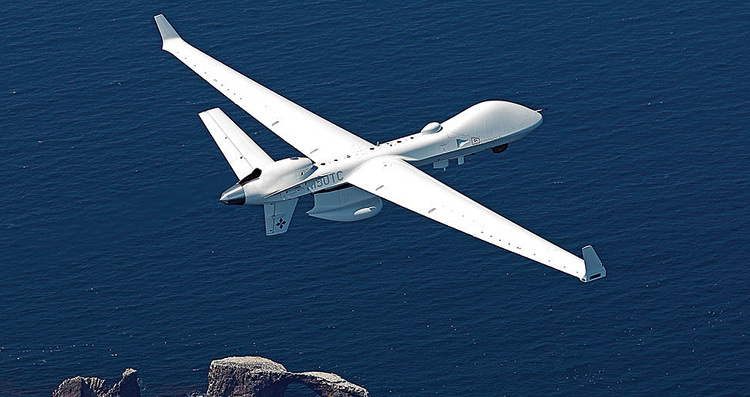 Japan's Coast Guard recently completed successful flight testing of Raytheon Intelligence & Space (RI&S) maritime surveillance technologies onboard a General Atomics Aeronautical Systems, Inc. (GA-ASI) SeaGuardian Remotely Piloted Aircraft (RPA). RI&S provided its SeaVue Expanded Mission Capability (XMC) radar and AN/DAS-4 Multi-spectral Targeting System for the tests, which were conducted in the Hachinohe, Aomori Prefecture, Japan, between October 15 and November 10, 2020.
The tests validated the wide-area maritime surveillance systems support for the Japan Coast Guard to carry out missions for search and rescue, disaster response and maritime law enforcement.
"Our advanced intelligence, surveillance and reconnaissance solutions can aid the Japan Coast Guard to perform their duties effectively in alignment with Japan's maritime security priorities," said Barbara Borgonovi, Vice President of Intelligence, Surveillance and Reconnaissance Systems for RI&S. "Through our partnership with GA-ASI, SeaVue XMC and DAS-4 contribute to SeaGuardian's critical role to help operators make decisions faster. Our wide-area surveillance technologies have proven track records that can be tailored to any mission in the maritime environment."
The SeaVue XMC radar provides enhanced wide-area surveillance by identifying targets of interest rapidly and efficiently, such as small maritime vessels. SeaVue MR delivers expanded capabilities including small-target detection at longer ranges and higher altitudes, and a software-defined digital architecture to add new functionality without changing hardware.
The DAS-4 sensor suite offers operators next-generation electro-optical surveillance in high-definition and full-motion video to identify and engage targets with pinpoint accuracy. The flight tests support the Japan Coast Guard's policy on Strengthening Maritime Security System. The policy calls for modernized maritime technologies to protect Japan's sovereignty.