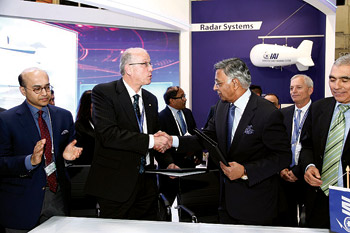 Israel Aerospace Industries Ltd (IAI) and Kalyani Strategic Systems Ltd (KSSL), the defence arm of Kalyani Group, signed a memorandum of understanding (MoU) to incorporate a joint venture company (JVC) in India.
As part of the MoU, IAI and KSSL are aiming to expand their presence in the Indian defence market and to build, market and manufacture specific air defence systems and lightweight special purpose munitions.
The MoU was signed in Bengaluru, at the Aero India exhibition, by Joseph Weiss, IAI's President and CEO, and Baba Kalyani, Chairman of Kalyani Group. The MoU is the first step of a process to establish a JVC between the two companies. The JVC will integrate strategic state-of-the-art defence systems for the Indian MoD in accordance with the Indian Government's 'Make in India' policy. Joseph Weiss said: "We are excited to announce the next step in our partnership in India, one of IAI's leading markets. This collaboration brings together the manufacturing and technology excellence of two leading companies and we hope we can continue with our partners at KSSL to spread our footprint in India and to continue our vast work with the 'Make in India' policy".
Baba Kalyani said: "The joint venture company will combine IAI's advance technology, knowledge and experience as an OEM with world-class design, development and manufacturing capabilities of the Kalyani Group. The joint venture will provide indigenously manufactured solutions in niche technology areas of defence sector, thereby furthering the 'Make in India' initiative of the government".