| | |
| --- | --- |
| | The Author is Former Director General of Information Systems and A Special Forces Veteran, Indian Army |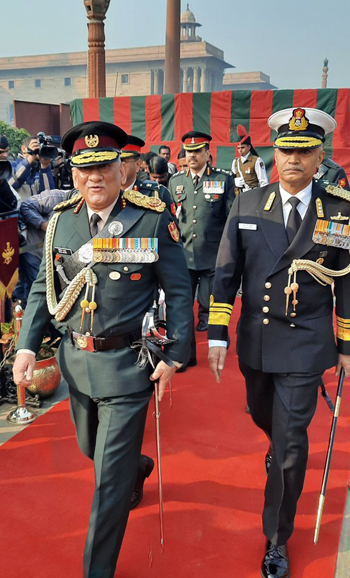 First Chief of Defence Staff (CDS), General Bipin Rawat
Speaking to reporters India's first CDS General Bipin Rawat has said, "As per the task given to the CDS we have to enhance integration and do better resource management. We have to achieve more synergy and integration. This is the motive. All the three services will work as a team. The CDS will control them but the work will be done through teamwork. The CDS will not be running any force as per its instructions. We will see how we can integrate our systems so that services can work in a coordinated manner." Significantly, the new Rules of Business notified by Government continue to include 'defence of India' and 'defence policy' in charter of the Defence Secretary. Defence Secretary's charter also includes military cantonments and land acquisition, defence accounts, purchasing food, capital acquisitions, Border Road Organisation (BRO) and even Canteen Stores Department (CSD). CDS will act as the Principal Military Adviser to Raksha Mantri on tri-Services matters but Service Chiefs will continue to advise RM on matters of respective Services. CDS will head the Department of Military Affairs (DMA), having military and civilian mix, as its Secretary, to facilitate restructuring of military commands for optimal utilisation of resources by bringing about jointness in operations, including through establishment of joint/ theatre commands. CDS will also be the permanent Chairman of the Chiefs of Staff Committee, in which he will be supported by the Integrated Defence Staff (IDS). CDS is also responsible (as earlier by HQ IDS headed by CISC was) for preparing long-term Integrated Capability Development Plan and assign inter-service prioritisation to capital acquisition proposals based on anticipated budget, as also implementing five-year Defence Acquisition Plan and Two Year Roll On Annual Acquisition Plan.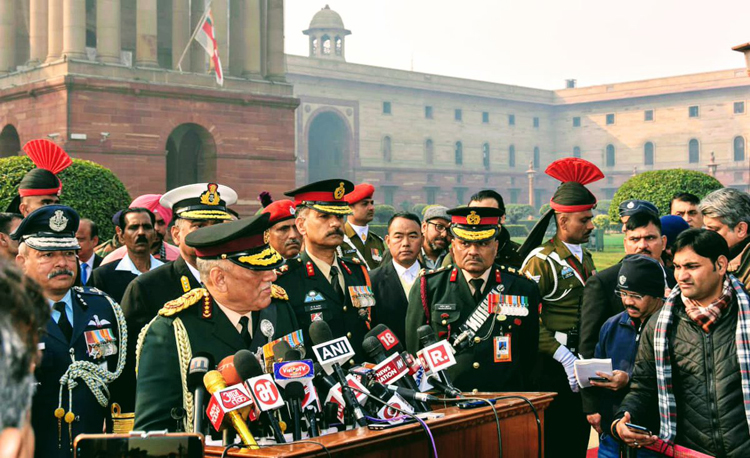 Chief of the Defence Staff (CDS) is all about Synergy where effort is to achieve more than the sum of the whole. Sum of synergistic application of three Services is not for 1+1+1=3 but sum to be 5 or 7.
CDS will not exercise any military command, including over the three Service Chiefs albeit the tri-service organisations will continue to be under HQ IDS less the Strategic Forces Command which has gone under the NSA. CDS will, however, will act as advisor to the Nuclear Command Authority. Being the one of the Secretary of MoD, CDS will have no say in Defence R&D, Defence Production, ESM welfare, AFHQ and civilian defence services. Personnel services and connected policies will be dealt by respective service chiefs, not CDS. Without operational powers, possibility of friction with service chiefs exists, especially when CDS is same rank as the service chiefs. CDS will have no control over capital acquisitions especially hardware. Yet he must implement these and the blame could be apportioned to him if any issues crop up, like the dismal state of Akash Missile Systems (covered earlier in these columns) which have been dumped on the military. The CDS will also be hampered in ushering true revolution in military affairs (RMA) because the Department of Defence (DoD) holds most aces with attendant red tape. It can therefore be deduced that the task of CDS is largely reorganisation of the military and usher jointness to some extent depending on what the DoD wants. Given constraints of his charter, top priority of the CDS should be military reorganisation, which General Rawat has begun to address by giving direction to HQ IDS for preparing a proposal for establishing an Air Defence Command, which also takes into consideration Russia delivering the S-400 Triumf missile systems to India by 2021. General Rawat has also directed HQ IDS to come up with recommendations for inter-services synergy and jointness in a time-bound manner. As for Theatre Commands, General Rawat has said these need not follow the western model; India can have its own mechanism for a tri-service command system that allows the Army, Navy and Air Force to work under one umbrella. He has indicated that the first joint theatre command will be established in three years and subsequent ones in five-six years. In this context, HQ IDS had ordered and examined five studies on joint commands in 2005 which were found good at DGMO/equivalent level; these recommended bilateral, trilateral commands including Cyber, Space, Special Operations, Training, Logistics etc, which can be used as a basis for working out future architecture. These proposals never went to MoD because of turf battle amongst service chief. General Rawat himself never rooted for projecting the case to MoD as COAS and even as Chairman COSC later. This notwithstanding, consideration should not be which service has how many flag-rank officers, rationalising heads of commands amongst the three services or what the DoD wants. Instead it should be strictly by operational requirements. It would be prudent to take into consideration China's military reorganisation; like 'one border, one theatre command, and importantly combining the functions of intelligence, technical reconnaissance, electronic warfare, cyber warfare and space warfare under the 'Strategic Support Force'. Another priority should be bridging India's strategic disadvantage vis-à-vis China and Pakistan at the sub-conventional level. General Rawat would need to flesh out expansion and modernisation the fledgling Armed Forces Special Operations Division and their cross-border pro-active employment on continuous basis rather than using them for reactive strikes. Yet another top priority is RMA, which is different from jointness. A detailed RMA plan with time bound implementation cutting across the services needs to be evolved. For example the Army is switching to the Army Cloud in 2010 combining all information based data, as approved by General Rawat as COAS. There is need to stitch this with other services and entities rather than being standalone. Given the technological advances in China, dispensing with backup to the data in the cloud too merits serious examination.
In modeling RMA, future conflict with China, conventional included, must take into consideration AI backed warfare – unmanned platforms, quantum communications and simultaneous conflict at all levels including in cyber, space and electromagnetic domains. CDS is required to plan on anticipated budget but aside from trimming military expenditure he must bid for requisite defence allocations and review system of budget demands, stressing to the hierarchy the balance required between economy and security. Similarly, the border infrastructure for quick mobilisation, especially in northeast must be speeded up. Policy is not under CDS but General Rawat would do well to advise the government that linking China's 'early harvest' proposal only to the middle sector in Uttarakhand would amount to neglecting critical regions of Ladakh and Arunachal Pradesh. All sectors must be discussed together since resolution must be a "package settlement" of boundary covering all sectors of the India-China boundary as agreed by both countries in 2005.
The views expressed herein are the personal views of the author.