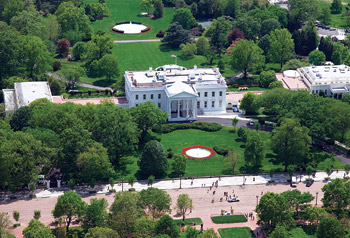 The White House, the most guarded place in the United States, is finding itself in a spot, being the most important place where individuals with no permission are trying to get in or break in. Recently, the White House apprehended an individual after he jumped a low metal barrier just outside the White House fence.
The White House Press Secretary Sean Spicer wrote on Twitter that the individual "jumped bike rack on Pennsylvania Ave but did not make it onto White House property." Spicer added, "Great response by @SecretService."
President Donald Trump was not at the White House then as he and his family were spending the weekend at his resort in Palm Beach, Florida.
The incident comes about a week after a man breached a 5-foot outer perimeter fence and scaled an 8-foot vehicle gate to gain entry to the White House grounds. Video surveillance footage shows Jonathan Tuan Tran, 26, of Milpitas, California, climbing the fence near the Treasury Department adjacent to the White House security fence and making his way to a south entrance, the criminal complaint said. Tran, who the Secret Service said, was carrying two cans of mace, is charged with entering restricted grounds while carrying a dangerous weapon and faces up to 10 years in prison.
Trump was inside the executive mansion at the time. He praised the Secret Service for doing a "fantastic job" apprehending a "troubled person."