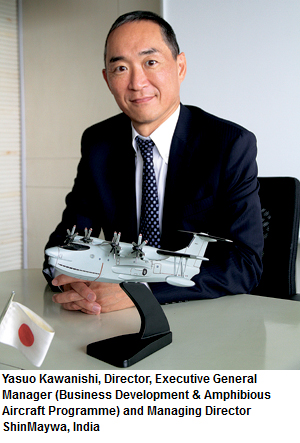 SP's M.A.I. met Yasuo Kawanishi, Director, Executive General Manager (Business Development & Amphibious Aircraft Programme) and Managing Director ShinMaywa, India, and Kanji Ishimaru, Director, Member of the Board and Senior Managing Executive Officer, ShinMaywa.
During the brief interaction Kawanishi highlighted the capabilities and significant characteristics of US-2. He shared the experiences of the pilots who flew this amphibian aircraft and found that the US-2 is far easier to fly than the US-1A. US-2 has improved operational performance – the pressurised cabin creates a comfortable space for the rescued, as well as the crew. Another reason why the US-2 is enjoying high popularity is its significantly longer cruising distance. The considerable extension of its maximum unrefuelled range has allowed a greater number of applications.
Kawanishi added that only three countries currently make amphibian aircraft: Japan, Canada, and Russia. However, only the US-2 can meet all of the diverse performance requirements in the market, namely, the capability to land on the ocean, carry a large number of people, and cover long distances.
Kawanishi hoped that through exhaustive acquisition process and detailed technical and technological scrutiny and evaluations, capability and utility of a versatile platform like US-2 will be acceptable to the Government of India, as a first time acquisition of military hardware from Japan.

US-2 Specifications
Length
33.3 m
Wingspan
33.2 m
Height
9.8 m
Engine
Rolls-Royce
AE2100Jx4
Propeller
Dowty R414
Max Take-off
Weight/Distance
47.7 t/490 m
Max Landing
Weight/Distance
47.7 t/1,500 m
Max Take-off
Weight/Distance (on water)
43.0 t/280 m
Max Landing
Weight/Distance (on water)
43.0 t/330 m
Range
Over 4,500 km
Cruise Altitude
More than 6,000 m
Cruise Speed
More than 480 kmph
Max Speed
More than 560 kmph
Source: ShinMaywa