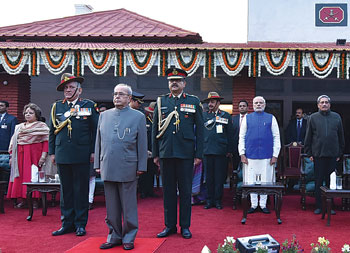 Indian Army celebrated its 69th Army Day on January 15, 2017. General Bipin Rawat, Chief of the Army Staff (COAS), reviewed the Army Day parade at the Cariappa Parade Ground, Delhi Cantonment, and awarded 15 Sena Medals (including five posthumously) for individual acts of gallantry and 14 COAS Unit Citations for commendable performance of their respective units.
Every year Indian Army celebrates January 15 as 'Army Day' to commemorate the day when General (later Field Marshal) K.M. Carriappa took over the command of Army from General Sir F.R.R Bucher, the last British Commander-in-Chief in 1949 and became the first Commander-in-Chief of Indian Army post Independence.
General Bipin Rawat in his address stated that while India sought peace on line of control, ceasefire violations or untoward incidents propagated by Pakistan will be responded to by force. He also brought out that confidence building measures were being further strengthened along the line of actual control with China to reduce tensions. The COAS highlighted contribution of Indian Army in UN peacekeeping missions, modernisation projects in the pipeline and welfare schemes being instituted for serving soldiers, ex-servicemen and Veer Naris. He reinforced the point that redressal of individual grievances by serving personnel should be carried out through established mechanisms within army rather than resorting to platform of social media for the same.
The parade was commanded by Major General Rajesh Sahai, Chief of Staff, Delhi Area. The leading contingent of the parade was formed of the recipients of the Param Vir Chakra, Ashok Chakra Awardees and International Sports Awardees. This was followed by army contingents which included T-90 tank Bhishma, infantry combat vehicle BMP-II, BrahMos missile system, weapon locating radar (Swathi), Akash missile system, chemical, biological, radiological & nuclear (CBRN) reconnaissance vehicle, mobile transportable satellite terminal vehicle and seven marching contingents including mounted horse cavalry.
The Veterans Tableaux, organised by the Directorate of Indian Army Veterans, depicted their role and contributions towards the nation. A motorcycle display by 'Shwet Ashw' team of the Army Corps of Military Police was the other attraction during the parade. A paramotors display was also carried out by a team from the 50 (I) Para Brigade.
The grand finale was a combat demonstration, which showcased combat techniques of the army subunits. Combat actions included strafing runs depicted by armed helicopter, combat manoeuvres by tracked combat vehicles and special operations including air insertion and extrication of soldiers behind enemy lines.
The Indian Army is regarded as one of the most credible institutions and instrument of national power. Indian Army operates in the most inhospitable conditions with resolve and pride. It has acquitted itself extremely creditably in internal security and counter-insurgency operations and has extended invaluable aid to civil authorities in disaster management and maintenance of law and order.
Earlier in the day, wreaths were laid at Amar Jawan Jyoti, India Gate, by the three Service Chiefs to commemorate the Army Day.