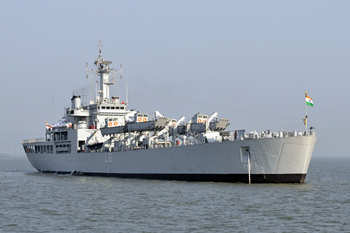 In keeping with India's national objective of ensuring a secure and stable regional environment to allow unhindered economic and social development, not just in India, but also in the Indian Ocean region, Indian naval ship Shardul is on a two-monthlong deployment in the South Indian Ocean with an aim to provide surveillance support in the region.
The warship during the initial phase of deployment carried out joint EEZ surveillance of Mauritius from March 8-26, 2017, in close coordination with the National Coast Guard of Mauritius. Post successful completion of joint EEZ surveillance of Mauritius, the warship entered EEZ of Seychelles on March 27, 2017, for Phase I of EEZ surveillance. The warship under the command of Commander Rohit Mishra entered Port Victoria on March 28, 2017, for OTR. The coordination meeting with officials from Seychelles Coast Guard and INS Shardul was conducted at Seychelles Coast Guard Headquarters to discuss the modus operandi, extent of surveillance area and communication plan was framed.
INS Shardul set sail from Port Victoria on March 31, 2017, with three Seychelles Coast Guard personnel embarked onboard for Phase II of EEZ surveillance and commenced EEZ surveillance on April 1, 2017. The deployment was aimed to show presence, deter IUU fishing and drug trafficking. The ship carried out extensive patrol in area (sanitising about 21,000 sq nm) and interrogated merchant and fishing vessels ensuring safe waters for transit of mercantile traffic and to safeguarding of EEZ of Seychelles.
The warship will enter Port Victoria on April 6, 2017, for second OTR and mission debrief. The debrief of the joint EEZ surveillance of Seychelles would be attended by the High Commissioner of India to Seychelles, senior officials from SPDF and Seychelles Coast Guard. The warship will set sail from Port Victoria harbour on April 8, 2017, for Phase III of EEZ surveillance of Seychelles prior returning to India mid-April 2017.