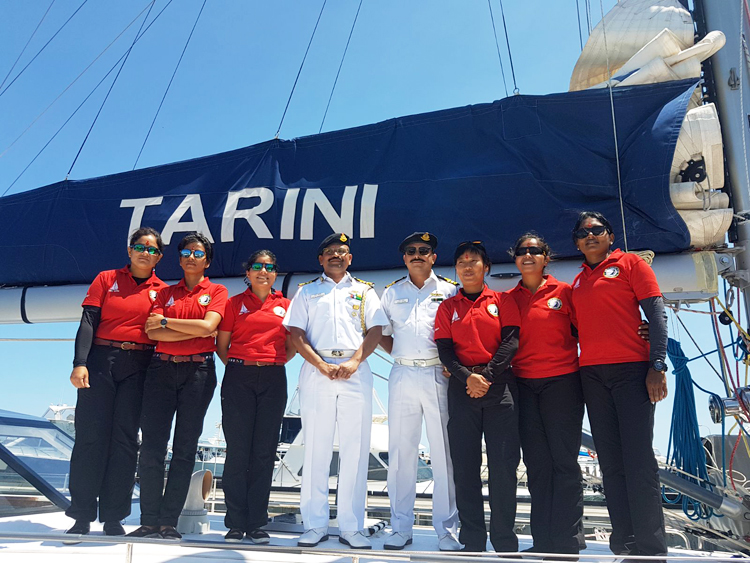 The Indian Naval Sailing Vessel (INSV) Tarini left Fremantle, Australia on November 5, 2017, for its onwards journey to Lyttleton, New Zealand. INSV Tarini had arrived at Fremantle on October 23, 2017, after completion of first leg of its maiden voyage to circumnavigate the globe. This historic circumnavigation attempt by an all-women crew is being led by Lieutenant Commander Vartika Joshi, and the crew comprises Lieutenant Commanders Pratibha Jamwal, P. Swathi, and Lieutenants S. Vijaya Devi, B. Aishwarya and Payal Gupta.
The crew of INSV Tarini was officially welcomed to Western Australia (WA) by Tourism, Defence Issues and Citizenship and Multicultural Interests Minister Paul Papalia and Women's Interests Minister Simone McGurk on November 1, 2017. WA Ministers were accompanied by two Indian-origin members of WA Parliament, Yaz Mubarakai and Kevin Michel. Federal MPs from Western Australia, Madeleine King and Dr Anne Aly visited the vessel INSV Tarini.
Chief of Royal Australian Navy Vice Admiral Tim Barrett also visited the vessel on November 1 to welcome the crew. He also handed over a personal message from Australian Minister for Defence Marise Payne for the crew. The crew had several engagements during its stay in Fremantle, including call-on meetings with Governor of Western Australia, Kerry Sanderson AC and Deputy Mayor of City of Fremantle Cr Ingrid Waltham. President of WA Legislative Council Kate Doust also hosted the crew at WA Parliament for an interaction with female MPs from all major parties.
The INSV Tarini crew had an opportunity to interact with a wide range of stakeholders during the welcome reception hosted by the Consulate on October 28, 2017, which was attended by about 100 distinguished guests, including members of WA Parliament, state officials, businessmen, academicians, consular corps, leaders from Indian community and media persons.
The crew of INSV Tarini also had an opportunity to interact with strategic thinkers and academia during a presentation and reception event hosted by Perth US-Asia Centre, leading think tank focusing on geopolitical issues based in the University of Western Australia, on October 31, 2017.
The visit of INSV Tarini to Fremantle was covered widely in Australian print and electronic media, and ethnic media.