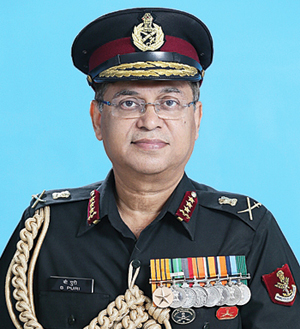 Lt General Bipin Puri assumed the apex appointment of Director General Armed Forces Medical Service (DGAFMS) on November 1, 2017.
An alumnus of the Armed Forces Medical College, Pune, the General Officer was commissioned in Indian Army (AMC) on March 30, 1979. He did his Post Graduation in Gen Surg in 1985, M. Ch in (PaedSurg) from PGI Chandigarh in 1993 and Fellowship in Paediatric Urology at the Birmingham Children's Hospital (UK) in 1997.
A renowned paediatric surgeon, the General Officer has pioneered the NUSS Procedure for Pectus Excavatum deformity in India. For his contribution towards field of Paediatric Surgery, he was honoured with the Ethicon Travelling fellowship award for 2005 by the Indian Association of Paediatric Surgeons. For his excellence in medical profession, the General Officer has been awarded Double Helical's National Health Awards-2017 by Indian Medical Association.
The General Officer has commanded Command Hospital (Northern Command), Udhampur and 155 Base Hospital, Tejpur. He has also served MG (Med) HQ Northern Command at Udhampur, Director General (Org &Pers) in the office of DGAFMS, Director General Medical Service (Navy) and Director General Medical Service (Army) from June 1 to October 31, 2017, before taking over as DGAFMS.
For his distinguished service, he has awarded GOC-in-C Commendation in 2010, Chief of the Army Staff Commendation twice (2001 & 2012). He was appointed as President's Honorary Surgeon (PHS) on June 1, 2016. He was conferred the VishishtSeva Medal on January 26, 2017.