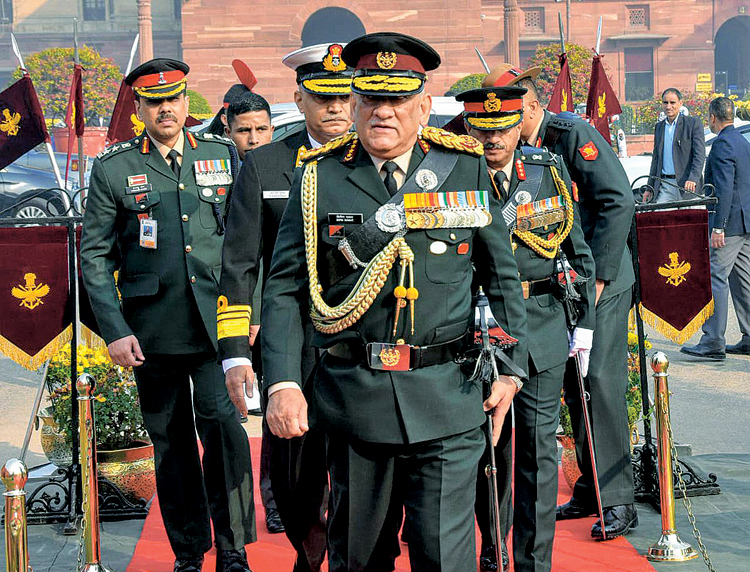 Chief of the Defence Staff General Bipin Rawat during the Tri-Service Guard of Honour in New Delhi
The newly-appointed Chief of Defence Staff, General Bipin Rawat has directed the Integrated Defence Staff to prepare a proposal to create a unified Air Defence Command for India, according to a statement released by the Ministry of Defence on January 2.
This is General Rawat's first substantive decision after taking over as India's first CDS on January 1. Headquarters Integrated Defence Staff has been asked to prepare the case for an Air Defence Command by June 30.
In his first meeting with senior functionaries of the Integrated Defence Staff, which will support him in his parallel role as Permanent Chairman, Chiefs of Staff Committee, General Rawat "directed various branch heads to come up with recommendations for inter-service synergy and jointness in a time-bound manner".
"He also set out priorities for execution of synergy by June 30 and December, 31 2020," the statement added, indicating that enforcing jointness, synergy among the three Armed Forces and restructuring of existing single-service commands into tri-service entities is the top priority of the Chief of Defence Staff.
In his opening remarks as CDS on January 1, General Rawat said India would not copy foreign models for jointness but evolve systems and structures which suit the Indian context.
General Rawat intends making a beginning with the low-hanging fruit. "Some of the areas identified for jointness and synergy include creation of common logistics support pools in stations where two or more services have their presence," the statement elaborated.
Emphasising a collegiate system of functioning, General Rawat directed that all three services and Coast Guard must be consulted and their views obtained in a time-bound manner. "Decisions will, however, be taken to ensure optimisation of resources," the statement added, suggesting the inevitability of re-structuring. "Efforts will be made to cut out infructuous ceremonial activities, which are manpower intensive," the Ministry of Defence statement added.
The charter of roles and responsibilities for the CDS gives prominence to bringing about "jointness in operations, logistics, transport, training, support services, communications, repairs and maintenance, etc. of the three Services within three years of the first CDS assuming office".
The CDS is mandated to "facilitate restructuring of military commands for optimal utilisation of resources by bringing about jointness in operations, including through establishment of joint/theatre commands".
The CDS will act as the principal military adviser to the Defence Minister on tri-service matters. He will not exercise any military command except over tri-service agencies on Space and Cyber Warfare.