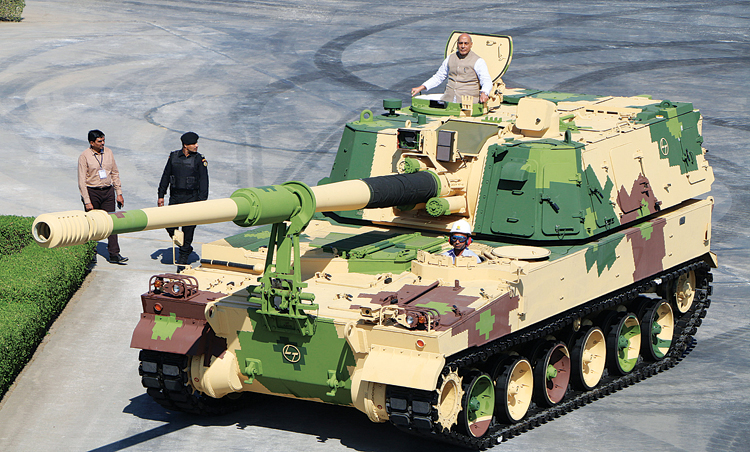 The 51st gun of the 100 K9 Vajra-T 155mm/52 calibre tracked self-propelled howitzers ordered in 2017 to beef up India's mobile artillery firepower was "flagged off" by Defence Minister Rajnath Singh at L&T's Hazira-based Armoured Systems Complex in Gujarat on January 16. Singh performed the 'shastra pooja' on the artillery gun, just as he did on the first Rafale fighter delivered to India in October last year, to signal acceptance of the gun.
The Defence Minister hailed the manufacture of the K9 VAJRAT as the best example of 'Make in India' in Defence. "I have been told that more than 75 per cent of K9 Vajra has been manufactured in India. Over 5,000 people have got direct employment and more than 12,500 indirect employment through this complex. It is a matter of great pride," he said on the occasion.
L&T in partnership with South Korean Hanwha won a global competition to supply 100 tracked howitzers at a reported price of 4,500 crore. L&T is required to deliver all 100 guns within 42 months of the signing of the contract. The delivery is so far ahead of scheduled timelines.
"Our Government is open to new ideas and is determined to use the energy, entrepreneurship spirit and enterprise of the private industry in the defence sector," the Defence Minister said.
Singh reiterated the Government's resolve to create a $26 billion defence industry by 2025 and provide employment to two to three million persons. "We wish to create an ecosystem that provides a platform to both public sector and private sector to work together and contribute to nation building through their strengths and experiences," he added.