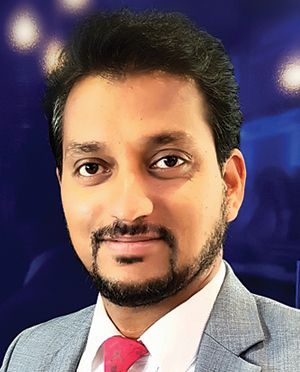 Ravikiran Pothukuchi
Director, Aerospace & Defense in India, Dassault Systemes
After almost a year of facing unprecedented disruptions and challenges with grit and resilience, the Aerospace and Defense (A&D) industry has started 2021 with the aim and ambition to revive and rejuvenate itself. OEMs and suppliers will need to accelerate innovation, drive efficiencies and move to the factory of the future to achieve greater agility and efficiency. This requires a new way to conceptualize, design, manufacture, test, certify and sustain new air and space vehicles. At Dassault Systemes, we stand committed to help the industry with advanced 3D design and engineering solutions powered by our 3DEXPERIENCE platform.
We are not only helping the Aerospace and Defense industry to design, simulate and manufacture the new generation of advanced aircrafts, but also helping them get ready for the future paradigms such as urban air mobility and vertical take-off/landings.
We are fueling the transformation of the supply chain in the industry through effective digitalization via cloud, which enables our customers to collaborate and design in a better and faster way. A fully developed and evolved supply chain ecosystem can help the industry break new grounds in its larger goal of Make in India. It means, the full utilization of the potential of virtual twins and application of model based systems engineering (MBSE) in the development of new aircrafts, new defense systems or next generation of commercial and defense ready drones.
The growing focus of the Government of India on the space sector development will require intelligent use of cloud based 3D design and engineering tools to unleash the full innovation potential for developing the next generation of ingenious rockets and satellites. At Dassault Systemes, we are working closely with the Government to democratize 3D design and engineering tools through greater accessibility and availability of the technology for upcoming defense corridors, MSMEs and startups in India.
Apart from the MSMEs, the startups in this industry are also a major drivers of innovation, especially in Drones or Unmanned Aerial Vehicles (UAVs). With the right support, mentoring and enablement, the current generation of startups can go toe-to-toe with the industry veterans and come up with such breakthrough ideas that fits the true definition of 'indigenous'.
Upskilling and reskilling the Indian engineering talent will be crucial for the ecosystem's future trajectory. Dassault Systemes is working closely with various State Governments (Karnataka, Andhra Pradesh) to set up dedicated Center of Excellence that can provide the requisite training to the current and future generation of engineers, in the Aerospace and Defense industry.
As the leader in the sector for over three decades, we, at, Dassault Systèmes work with companies of every size and help them reinvent their operational models, product blueprints and delivery roadmap.
Build to Operate ISE based on the 3DEXPERIENCE® platform, accelerates meeting production targets and increases manufacturing capacity. The solution offers aerospace OEMs and suppliers the ability to implement lean practices, integrate new technologies and meet demand without sacrificing either quality or schedule.
Ready for Rate enables flexible production while delivering products with first-time quality, on budget, and on schedule. Aerospace manufacturers can take advantage of the 3DEXPERIENCE® platform to implement lean practices that remove waste in critical areas of manufacturing. Planners can define and validate manufacturing processes down to individual work instructions virtually to eliminate potential issues and waste before they occur.
Engineered to Fly allows small and medium suppliers to grow their business profitably from bid to delivery. By connecting the dots, the 3DEXPERIENCE® platform reduces complexity to develop new bids, collaborate during product development and facilitate manufacturing ramp-up.
Reinvent The Sky supports startups, small and medium enterprises and OEMs in developing disruptive solutions: from small, light aircraft to electric vertical take-off and landing, as well as space launchers and satellite propulsion. Companies can accelerate the product lifecycle from concept to certification, and gain significant advantage by being the first on the market with their prototype.
Co-Design to Target allows Original Equipment Manufacturers (OEMs) to integrate disparate tools, organizations and processes into a single stream to optimize form, fit and function in an integrated System Digital Mock-up (DMU). This System DMU can avoid many of the integration issues that significantly impact the cost and schedule of a program.
Please connect with us on (IN.Mkt.Value-Engagement@3ds.com) with a subject line- 3DS at Aero India 2021